UPCOMING SHOWS
2021 Schedule
PAST SHOWS
2020
——————————–
Saturday, March 14th, 2020
Elsie's Place in Wallkill NY
Pre- St. Patrick's Day Party and Post Alan's Birthday Party
9 pm Showtime
————————————-
Friday, March 27th, 2020
The Chance Theater in Poughkeepsie NY
With Special Guests
Cruise Control, Trisain, and Crispy Crunch
Doors Open at 7 pm

——————————–
More Shows Coming Soon Check Back!
——————————–
Friday, Feb 28th, 2020
Whiskey Ally's in Newburgh NY
——————————–
Friday, Feb 21st, 2020
Parkside Tavern in Pearl River NY

2019
——————————–
WHISKEY ALLY'S
in Newburgh
December 13th
Christmas Party
Music Starts at 9 pm
Free Admission
——————————–

11st Annual St. Jude's Holiday Benefit
at The Nu-Cav Restaurant
in Wallkill NY
December 8th 2019
Event Starts at Noon and Music Starts at 1pm
Rebel Souls starts at 4:30pm
$20 Donation includes Free Buffet
Raffles, Door Prizes and MORE!!
Please come support a GREAT Cause!
——————————–

——————————–

WHISKEY ALLY'S
in Newburgh
October 26th
Halloween Party

——————————–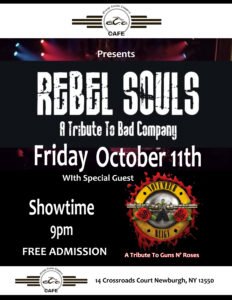 ORANGE COUNTY CHOPPERS
in Newburgh
with Special Guest APPETITE FOR ILLUSION G&R Tribute
October 11th
——————————–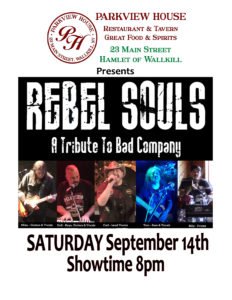 PARKVIEW HOUSE
in Wallkill NY
September 14th
Music Starts at 8pm
Free Admission
——————————–
GENERAL MONTGOMERY DAY
in Montgomery NY
September 7th
Music All Day
REBEL SOULS on The Gazebo Stage
Downtown Village of Montgomery
4:45pm-5:45pm
Free Admission
——————————–

THE CHANCE THEATER
in Poughkeepsie
with THUNDERSTRUCK AC/DC Tribute
plus Spitfire and Midnight Train
August 9th
——————————–
WHISKEY ALLY'S
in Newburgh
August 3rd
——————————–

NIGHTS OF THE ROAD MC
The Airport Inn in Montgomery
Annual Benefit for The Hudson Valley SPCA
July 13th

THE CHANCE THEATER
with SATO The Ultimate Ozzy Show
June 14th